KH-Vids | Your ultimate source for Kingdom Hearts media
Your ultimate source for Kingdom Hearts media, Kingdom Hearts news. Kingdom Hearts discussion, cutscenes, cheats, and more!
Hey guys, it seems Square-Enix has updated their financial sales with their latest sales progress for a few of their games, one of them being Kingdom Hearts II For Europe, which has sold over 700,000 copies, great job!
Financial Report
Also in case you missed it, we had a previous news update, for KH2FM+'s Official Website update
Here
Hey guys, thanks to our forum member
ansemcontainer
he managed to take a few pictures of his Kingdom Hearts collection, featuring Figurines, posters and more for us.
Once again thanks to our forum member
ansemcontainer
for these photos.
Also Square-Enix has updated their official FM+ Website, with a section known as "Chaku Uta (R)" for those that don't know what it is, it's a Ringtone for phones that take High Quality MP3 playback. Which means that, Square-Enix is distributing songs from the Kingdom Hearts soundtrack for those who want KH Ringtones!
Official Website
Source:
FFKH Blog
Note: If anyone finds anything new related to Kingdom Hearts, or so do not be afraid to e-mail me at
bahamutzerobuster@gmail.com
or to PM me, you will be credited on these finds as well!
Hey guys, it seems
Reflet
from
KingdomFantasy
has scanned a good segment of the Kingdom Hearts FM+ Ultimania Scan, all in High Quality, including official artwork of Xemnas' face, and even more renders! You can download a .rar of these scans from clicking the link below.
Download
Note: In case you have trouble unzipping it, you may need to get a better extraction program, most preferably
Winrar
(Right click and save)
Source:
Kingdom Hearts 3.net
Every week, I scour the video portal's latest submissions and pick my top five favorites. Just because you don't make it into the top five does not mean that you're video wasn't good. We just have so many good videos that they're hard to choose from! Here's the top five for this week.
[top5number1]07673072-a469-411b-8101-993700769fb9[/top5number1]​
This Week's Winner:
Darkandroid
|
View Video
Song:
Pieces
by Sum 41
​
2.
Submitted By:
HazHeartz |
View Video
Title
:
Simple and Clean Techno Remix
by Utada Hikaru
3.
Submitted By:
ILoveJen |
View Video
Song
:
Breaking the Habit
by Linkin Park
4.
Submitted By:
Stardust |
View Video
Song
:
Still Standing
by The Rasmus
5.
Submitted By:
malicioustimer |
View Video
Song
:
Waka Laka
from Dance Dance Revolution
Hope you enjoy them all, and keep submitting! Maybe your video will show up here next Sunday!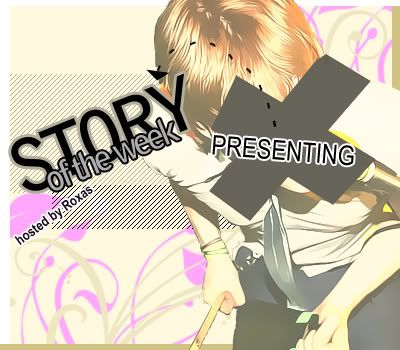 Week 3
​
My leg is broken in 4 places. One of my lips is on the table in front of me. A small man I don't know keeps poking me in the arm. It's A Wonderful World is coming out in 2 months. I can't see out of my right eye. But despite all these bad things, I have some great stories for you this week. It was incredibly hard to decide on which stories to place in the top 2, but after a lot of consideration I have decided on these:​
Winner
New Beginnings by The Soul-Eater
This story is a one-shot about life after the KH series on Destiny Islands. The writing, speech, and adjectives are amazing and I was captured by the visuals it presented.
Runner-Up
Gravestone Flowers by twilightsown
Gravestone Flowers is a story about Riku's relationship with Kairi after Sora has died. It's based around the song "Soldier Side" by System of a Down.​
I hope you enjoy these 2 fabulous stories. There was truly awesome ones entered, and I'm sorry that not all of them can be posted here.
As the judge of Story of the Week, it would be unfair for me to enter my own story, so I'm taking the liberty of including my latest here:
KH-Vids Royale II
. It's the sequel to the highly popular KH-Vids Royale, which is a story about 30 of this forum's most well-known members beign put on an island and given random weapons and forced to kill each other till one is left (based off Battle Royale). I hope you enjoy this as well as the two great stories that won this week.​